Transforming the Bay with Christ (they have a new website finally), is a new effort among church and business leaders in Silicon Valley and across the SF Bay Area. This group is seeking to join the work God is starting here by seeking to Unify, Amplify, and Multiply the efforts of churches, business and other leaders are already making.
"Skip" Vincent Vaccarello of FindingGodinSiliconValley.com has a wonderful write up of which I have excerpted here: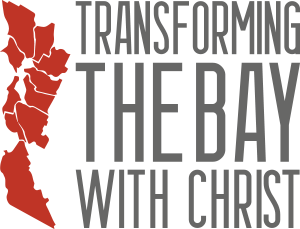 In his presentation at the January meeting, Gelsinger noted that the Bay Area is the richest region in the country and the most influential with its emphasis on innovation and high technology. At the same time, the Bay Area has one of the lowest percentages of committed Christians and church attenders in the nation, and ranks near the bottom in the U.S. in per capita charitable giving. One of the reasons for the low charitable giving Gelsinger cited is the weakness of the church – often the center of charitable giving in many cultures.

TBC has three primary areas of focus it labels "unify", "amplify" and "multiply." By "unify" TBC intends to facilitate the networking of Christian leaders in business, education, non-profits, and the church to make a difference in the Bay Area … "Amplify" represents the goal to serve the needs in the community … "Multiply" represents TBC's goal to expand the number of churches in the Bay Area. TBC hopes to facilitate the opening of 1,000 new churches over the next ten years.
I was able to attend the January meeting, which also featured Luis Palau, longtime servant evangelist in God's many works around the globe.
I am very sure that God will use TBC, and many other networks of leaders, intercessors, and servants in His kingdom to start revival in Silicon Valley, as we all seek His face, and respond as He directs us!